SLC-Series fiber laser cutting machine is a single table type with 1 – 3kW fiber laser power source (For larger laser power capacity, it is necessary to use a shuttle double table to ensure safety) designed to metal cutting such as: mild steel, stainless steel, zinc-coated steel sheet, aluminum, copper … are widely used in mechanical engineering, mechanical processing, manufacturing elevators, electrical cabinets, steel structures, manufacturing kitchen equipment, decoration …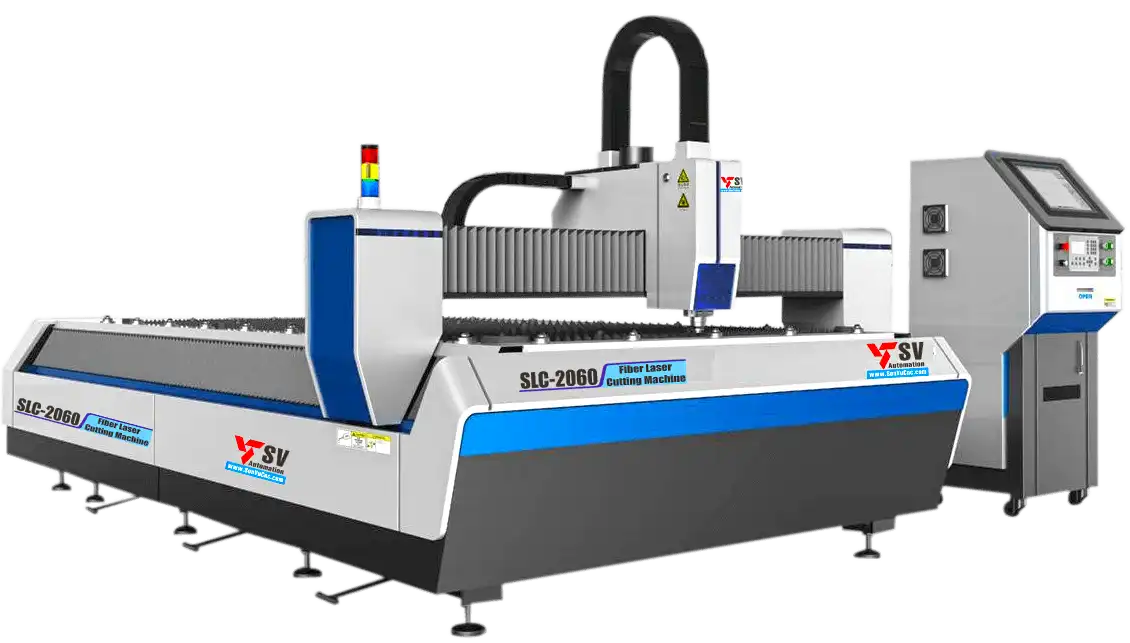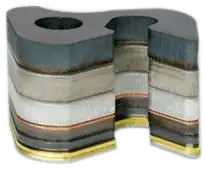 Single table fiber laser cutting machine Laser cutting products
SLC-Series cutting machines use fiber laserr technology to consume less energy, high efficiency, low operating costs, easy maintenance. The laser produced by semiconductor diodes is then directed to the cutting torch by optical fiber without the need for a reflector system like Co2 laser so there is no energy loss on the transmission line. No Co2 mixing gas is required to create a laser.
SLC-Series includes models: SLC-1530, SLC-1540, SLC-2040, SLC-1560, SLC-2060, SLC-20120
SLC stands for Sonvu Laser Cutting
FEATURE
1. The table is made by welded steel plate into a block, heat treated, weighing a heavy machine table to ensure stable operation over 10 years without deformation. Unlike the type of table made by pipe steel, it will be deformed, leading to increasing error with time. That's why all of the world's leading laser cutting machine manufacturers use welded steel table design.
| | |
| --- | --- |
| | |
| Machine table made by sheet steel | Machine table made by pipe |
Look outside, the machine table made by pipe steel seems pitiful, but because the thickest pipe steel is only 12mm, the machine is light weight, running at high speed for 1-2 years is increasing error. Because of its low cost, simple structure and ease of fabrication, most low-cost laser machines use this type of structure.
The table is made of 16-20mm thick steel plate, it is possible to arrange the ball bearings and the pinion gear lying side by side, dividing the weight evenly on both sides to help the horizontal axis move smoothly at high speed. In addition, this structure can be divided to increase the efficiency of smoke extraction. The structure of this type of table has a heavy weight, complicated manufacture and high cost but achieves stability over time.
2. Cast aluminum crossbars are light weight, fast moving and comfortable. Sliders and rack bars have automatic lubrication and dust removal systems
.
3. The source of fiber laser used by IPG, Germany is the world's leading fiber laser source manufacturer. IPG sources are widely used around the world. Son Vu has sent technical staff to IPG's factory in Germany for training in fiber laser source maintenance and repair and certified by IPG.
Fiber laser below 2kW is installed in an electrical cabinet with industrial air-conditioned, for fiber laser 3kW and above is installed in rooms with air-conditioners to ensure the best working environment (heat degree, stable humidity, anti-dust) to fiber laser source operate stably and durable.
3. Our machine using auto focus laser cutting head of Raytool, Switzerland
There are many laser cutting head manufacturers such as Germany's Precitec, Raytool of Switzerland, LaserMech of the USA, WSX of China. However, in the process of use, we found that for the capacity of 1-6kW laser source, Raytools cutting torch is the optimal choice. For 6-12kW laser sources, Precitec and Cypcut cutting head are the optimal choice
The laser cutting torch has manual focus type and auto focus type. Manual adjustment on the cutting torch with the adjustment knob to change the focal length, while the automatic type has the servo motor to change the focus automatically according to the settings.
| | |
| --- | --- |
| | |
| Manual focus laser cutting head | Auto focus laser cutting head |
The advantage of automatic focus head is piercing capable of 3 times faster than a manual focus head with the same laser source capacity. Therefore productivity is also higher. The reason for this is due to the ability to automatically change the negative focal length during priming and positive focal lengths during cutting. What the cutting torch focuses on by hand cannot be done.
Many suppliers provider manual focus head because they are easy to install and are cheap, making it easier to attract customers. But if using a manual focus is wasting productivity. It is possible to save some initial investment but the lost is long-term.
Standard configuration on SLC-Series fiber laser cutting machine is the automatic focus cutting head of Raytools.
4. The machine uses high quality equipment from Germany, Japan such as ball bearings of Bosh Rexthrox, Germany, Burkert high pressure valves, Germany and Japanese servo motors to bring stability to the system.
5. Gas control system on fiber laser cutting machine is an important part
The task of the laser is to melt the metal, and the cutting gas (Oxygen, Nitrogen or compressed air) blown out from the cutting head will blow away the molten metal to create a cutting path. So if the cutting gas control system is not designed well or using poor quality equipment, it will affect the efficiency of the machine.
If an efficient air inlet filter system is not available, the debris will clog the airway after a period of use, resulting in a bad cut or cut off. Most cheap laser cutting machines will not have input air filters.
The control of cutting gas pressure is also important. Most fiber laser cutting machines on the market have automatic oxygen pressure control valves but do not have automatic nitrogen pressure control valves but must be manually adjusted. Because the nitrogen gas pressure is very high (about 20 bar), the control is very complicated and the equipment is also very expensive.
For laser machines with a capacity of 4kW or less, Son Vu does the customer choose whether to install automatic nitrogen pressure control function? If selected, additional charges will apply. For laser machines with a capacity of 6kW – 12kW, the automatic nitrogen pressure control system is always installed.
FIBER LASER CUTTING PRODUCS
WHY SHOULD CHOOSE SON VU?
For production machine tools such as fiber laser cutting, it is important to buy from any supplier. Direct impact on investment efficiency. One thing is certain that even if the machine is good, there will be a problem. What if the machine has a problem that the provider or lack of responsibility or has no capacity to handle?
If a TV breaks down, late repairs can only be frustrating. But a machine tool used to produce that fixes late may cause you serious damage, delaying progress … Until then you realize that buying a low-cost device is potentially risky. It's late.
The following story is an example:
In the middle of June 2019, a customer called Son Vu by repairing a fiber laser cutting machine that they bought from another unit. According to customers, over a year ago they decided to buy this machine because of cheaper price than Son Vu. In the past, when the power was turned on, the laser source was faulty, and when it was turned on again and again, it was cut. Just like that for 1 day, the faulty laser source is no longer able to cut. They call suppliers to check. After 3 days of failing to find a faulty machine, the provider will make an appointment from China to check for another 10 days.
Of course, customers do not agree because there are many orders that need cutting urgently. As for the supplier, I hope that customers will sympathize because it is the best solution. Should customers ask Son Vu.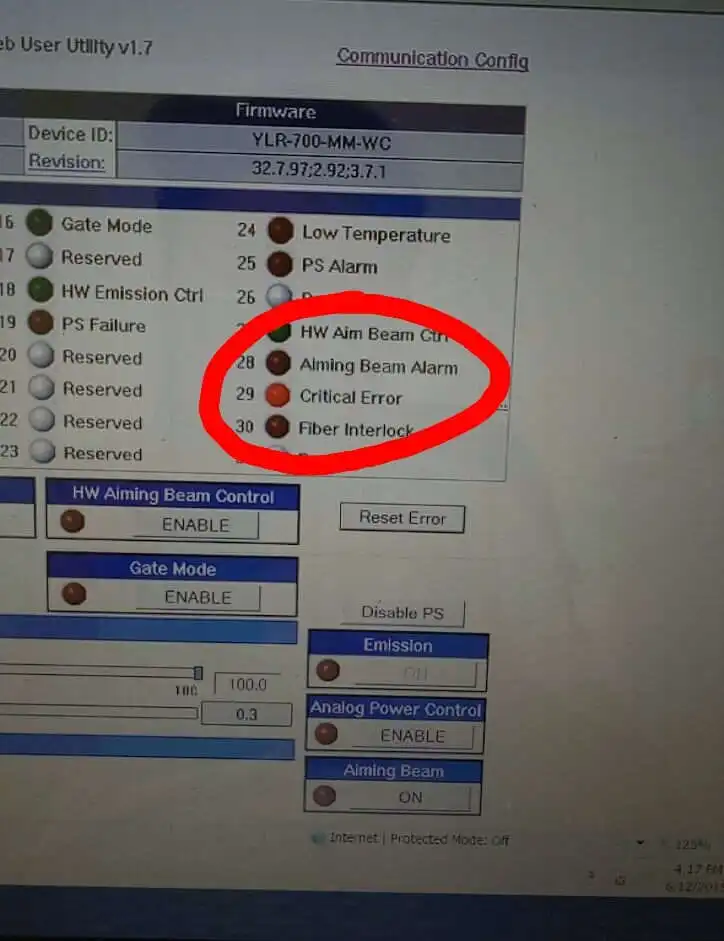 IPG fiber laser error
At first we tried to refuse, but this customer bought a Son Vu cnc plasma cutter a few months ago. So the business department convinced us to help customers. After about 5 minutes of testing, Son Vu technology has determined the fault of IPG laser source and added a few hours to process. The machine was working again in the joy of guests.
Then, thanks to the overall machine test, we found that the signal wires of the connecting laser source were not properly started up as required by IPG (This is the reason every time the laser power is turned on or error is detected). The IPG source requires open face to be sequential, but here when the power is turned on, the signals are fed into the laser source at the same time.
In addition, the X axis (horizontal axis) is exposed, using light hands to push back and forth, it will be choked about a few millimeters, so the wrong number is cut. This is the consequence of deformation due to the frame made of box steel. Previously, this customer had learned about laser cutting machines and was consulted by Son Vu about the disadvantages of cheap laser cutting machines with iron box frame but at that time, customers did not believe.
Currently there are many cheap machine suppliers who know the disadvantages of box frames, so either they hide the customer or if the customer asks, it is said that the frame is made of cast iron / steel without deformation … In fact Look at the world's leading laser cutting manufacturers such as Trumf, Amada, why don't they use cast iron / steel frames but use welded steel plates?
One of Son Vu's concerns is how to provide customers with good quality laser cutting machines. At the same time good support for customers during use. By guiding enthusiastic, thoughtful, communicating experience to help customers optimize the efficiency of use and especially must have sufficient capacity to warranty and repair quickly when the machine is in trouble ( if).
Here are some of Son Vu's differences compared to other suppliers that you can rest assured when being Son Vu's partner:
1. Son Vu comes up from CNC plasma cutting technology: Son Vu has more than 8 years of producing plasma plasma cutting machines. It can be said that fiber laser cutting technology is an advanced version of cnc plasma cutting technology. So more than anyone, Son Vu is the supplier of fiber laser cutting machines with good technical background and experience.
2. Son Vu is the only unit in Vietnam trained by IPG, Germany as the world's largest fiber laser source manufacturer of fiber laser maintenance and troubleshooting.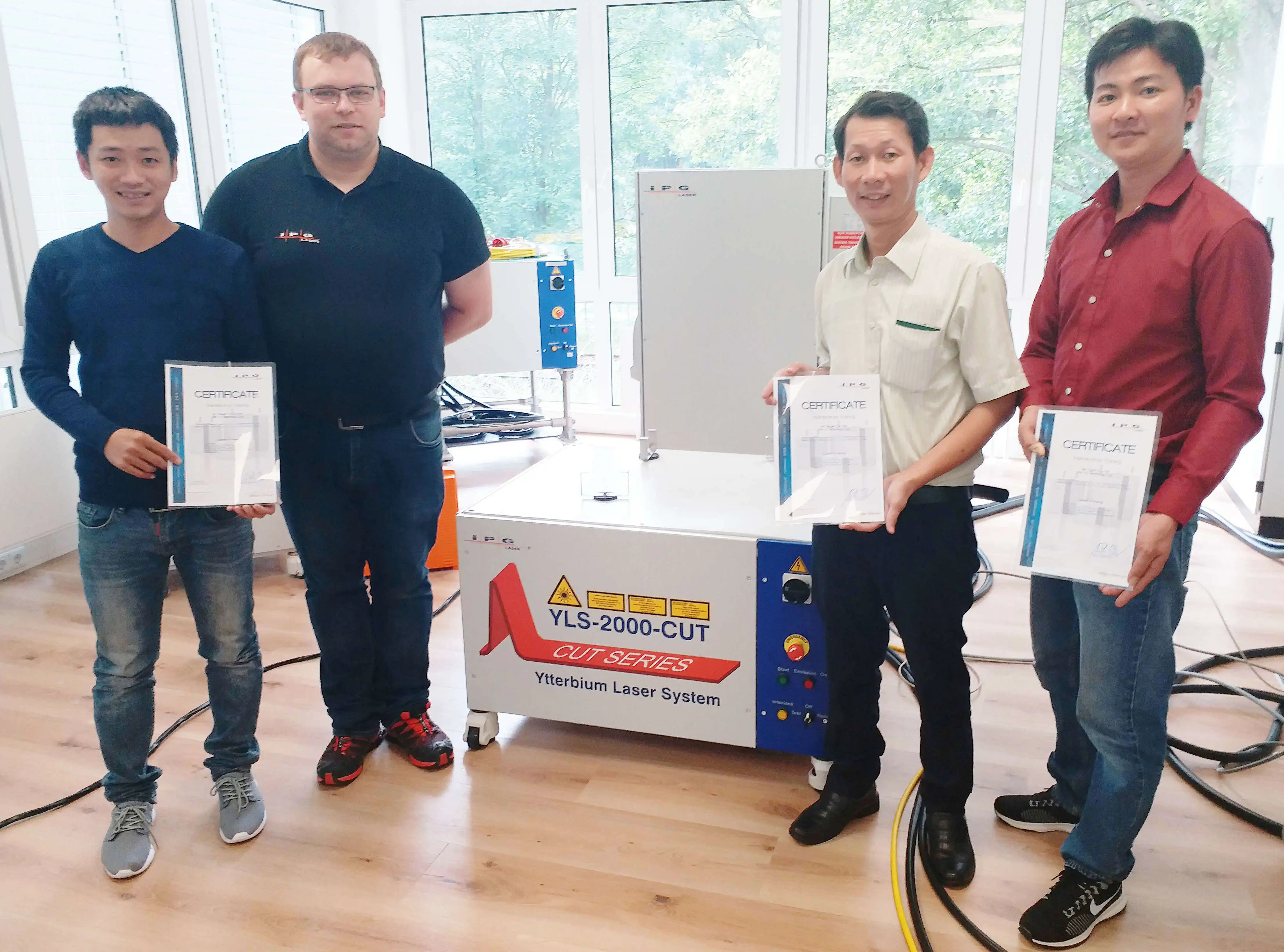 As you know, fiber laser sources are the heart of the system, this is a very expensive device.
Many suppliers advertise fiber laser sources with a lifespan of up to 100 thousand hours and without maintenance, but they do not tell you that the fiber laser source will be easily damaged if installed and stored incorrectly. way.
Therefore, it is very important to get formal training from fiber laser manufacturers themselves. Ensuring proper installation and maintenance, making fiber laser sources stable and durable.
In fact, there are many improper providers of IPG fiber laser installation, even the laser shutdown process they do is not in accordance with IPG regulations, resulting in damage or reduction in laser source life.
3. Son Vu has a center for machining plasma cutting and laser cutting in Binh Chanh, Tp. HCM. Son Vu uses its fiber laser cutters daily. Therefore, we understand the products as well as the customers' expectations. While most other suppliers are not clear about the products they offer.
4. Son Vu fiber laser cutting frame is made of 20mm thick steel plate welded into blocks, heavy weight, very firm to ensure that the machine runs smoothly and without deforming over time. While most low-cost fiber laser cutting machines use an iron table structure, it is lightweight and will deform resulting in errors of up to a few millimeters after 1 to 2 years of use.
5. The source of fiber laser with capacity <2kW installed by Son Vu in the cabinet is equipped with industrial air conditioners and for laser sources> 2kW Son Vu always requires customers to put in rooms with air-conditioners. This will initially cost a little but to ensure a stable temperature and humidity, the stable and durable laser source will save you a lot of money to repair laser sources later. Most other vendors leave external laser sources, in a certain vacant position on their machines.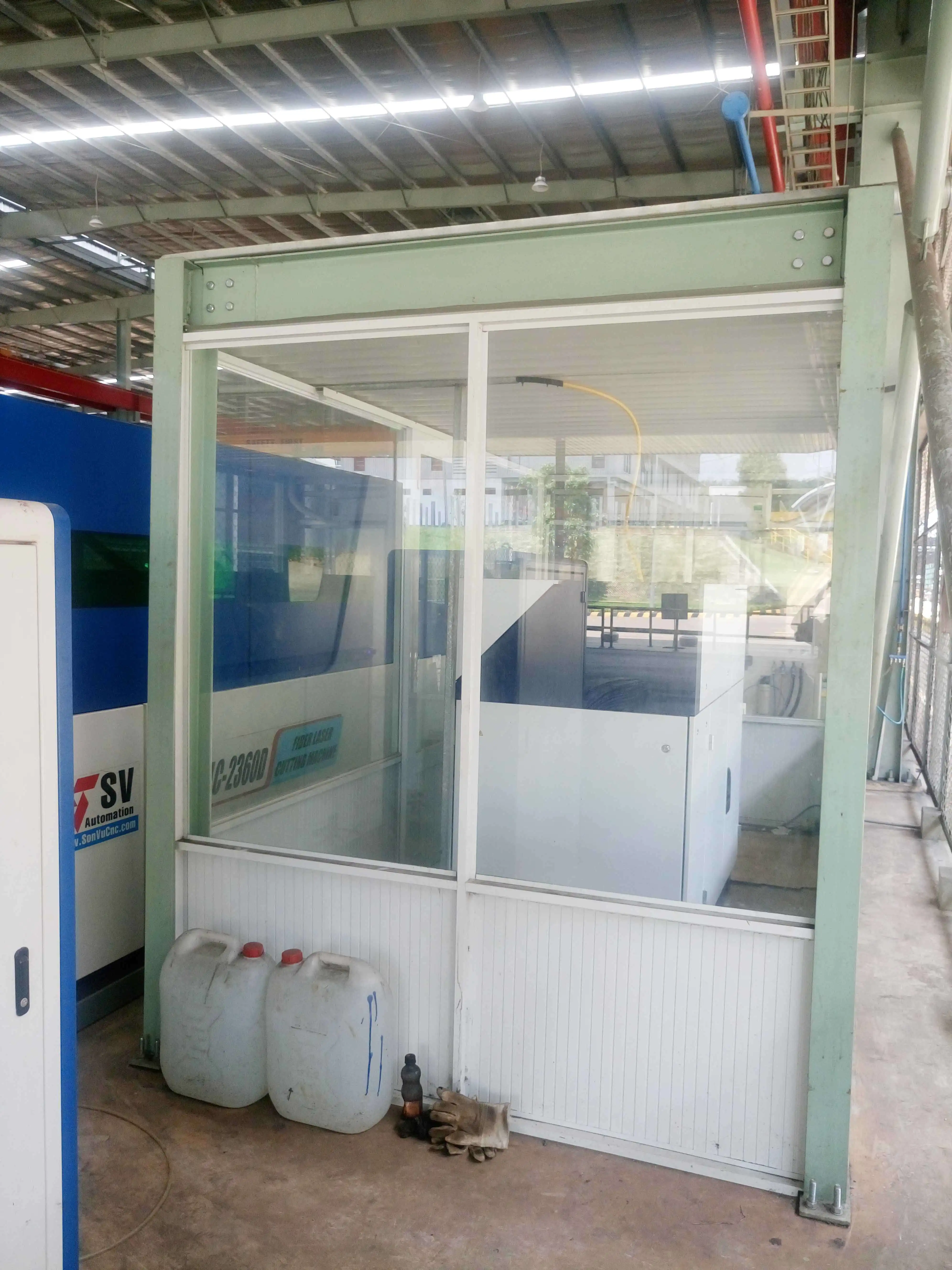 3kW fiber laser source is placed in a room with air conditioning
6. On Son Vu fiber laser cutting machine, the standard configuration is automatic focal laser cutting torch of Raytools, Switzerland. The auto focus cutter head will be easy to use and has a much higher productivity than the manual cutter. Thanks to the ability to change the focus during priming (negative focal length) and during cutting (positive focal length). So it takes 5 to 10 times faster to loot than the manual focus cutter. Raytools cutting mines are more stable than Chinese laser cutting head.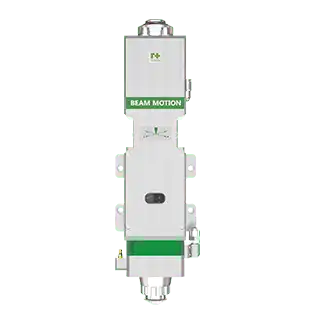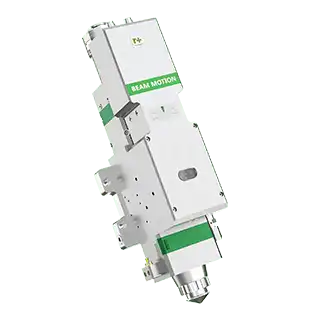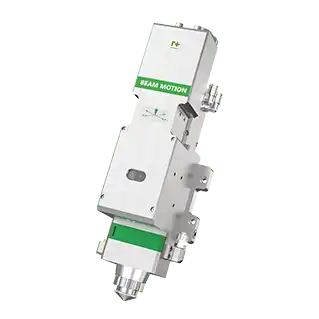 Raytools auto focus laser cutting head
7. Son Vu's technical team is well-trained and used daily fiber laser cutting machine, so it has experience in handling common problems quickly (if any) and has optimal experience of bearing lines. to higher efficiency.
8. Son Vu is considered as a reputable supplier (typical brand certification trusted by customers and voted by Ho Chi Minh City Intellectual Property Association. Son Vu CNC plasma cutting machine is Ho Chi Minh City People's Committee and Department of Industry and Trade certify as a typical industrial product of Ho Chi Minh City. Son Vu has supplied fiber laser cutting machines to many large domestic and foreign companies, such as ATAD Steel Structure Company, Thien Nam Elevator, MLG, Australia. Should work with Son Vu you can completely assured of quality as well as after-sales service.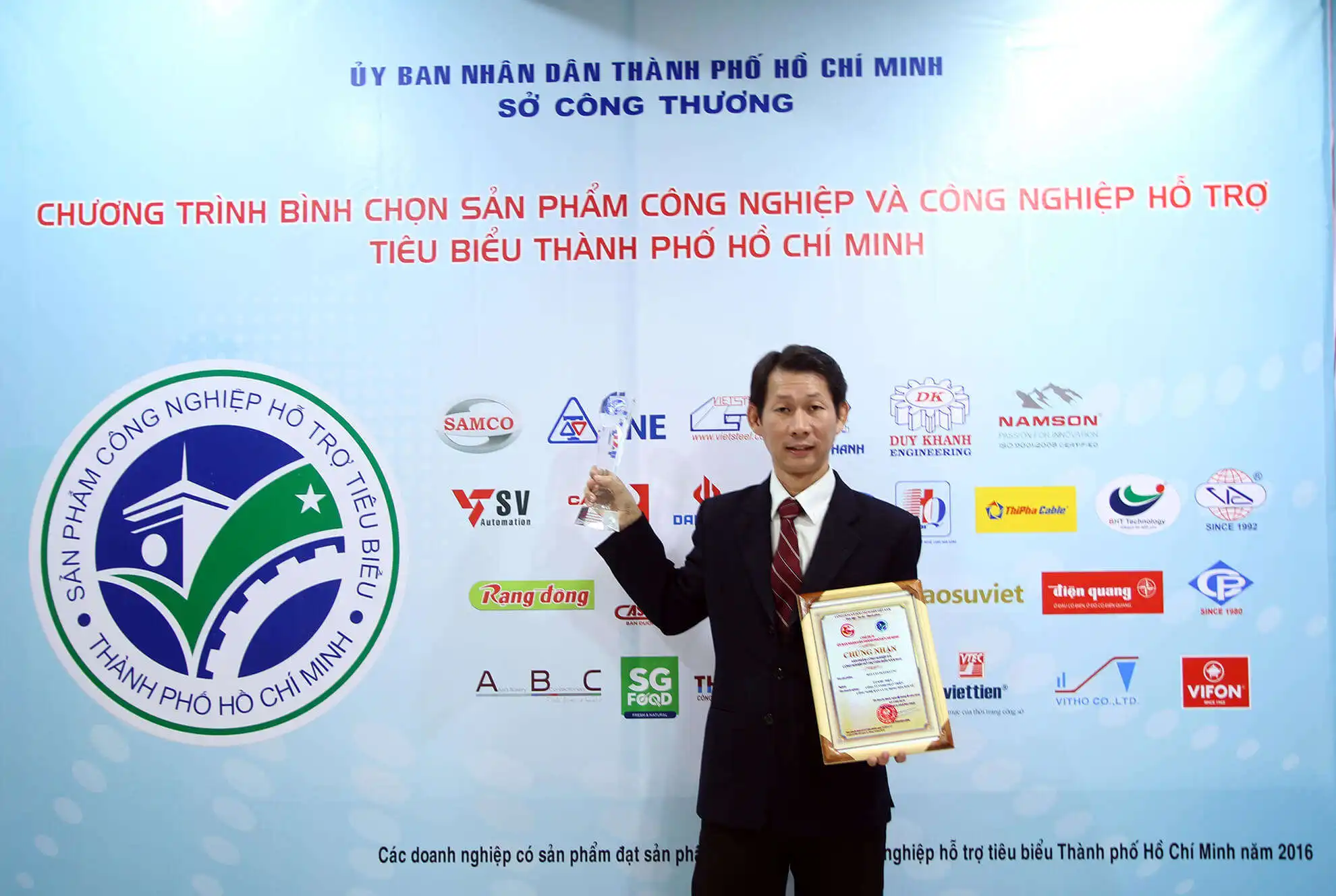 Please contact us if you need to find out more about fiber laser cutting machines
Contact information:
Son Vu Technology Corporation
B11 / 10 KP 2, Tan Tuc, Binh Chanh, Ho Chi Minh City
Tel: 028 2262 9898 – 090 818 2124 (Zalo)
Email: nhson@sonvucnc.com